Logitech MX Anywhere 2 Wireless Mobile Mouse Description
Features
Tracks virtually anywhere



Darkfield™ laser tracking gives you flawless control on virtually any surface, including glass and high-gloss surfaces.

This wireless travel mouse performs anywhere you need it to—glass tables in your hotel room, shiny laminate tops, train and airplane tray tables, and even your jeans.

Unlike traditional laser and optical mice which use irregularities on the surface to track mouse movements, Darkfield technology uses the smallest possible detail to create a micro-road map of the surface.
In tests, the mouse performed best on glass with a minimum thickness of 4mm.

Compact, sculpted shape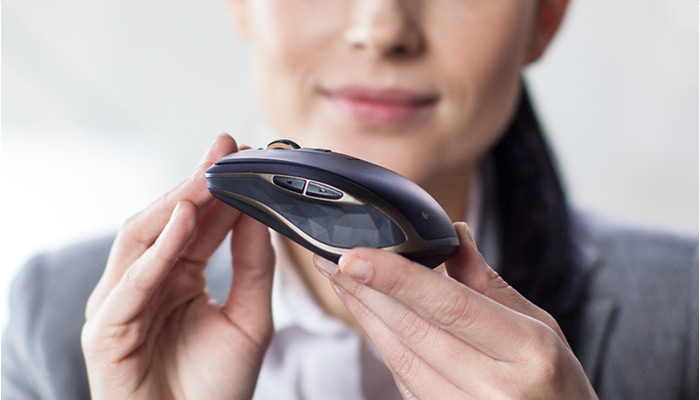 Compact enough to take with you anywhere, this wireless mobile mouse is designed to help you make things happen anywhere — at home, at work, or on the go.
Dual wireless connection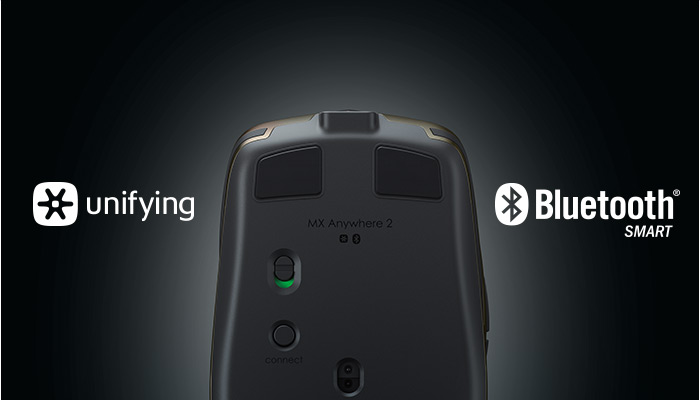 Connect to Windows® and Mac® via our smallest-ever Pico Unifying™ receiver or via Bluetooth® Smart wireless technology.

MX Anywhere 2™ is Bluetooth Smart mouse that will connect to any Bluetooth Smart Ready computer. If your computer does not support Bluetooth Smart wireless technology, use the Logitech Pico Unifying receiver for advanced 2.4GHz wireless connection.
If your computer is not Bluetooth Smart ready, or if you are using an earlier version of Windows or Mac OS, use the Logitech Unifying™ Receiver to connect MX Anywhere 2.
Easily switch between three devices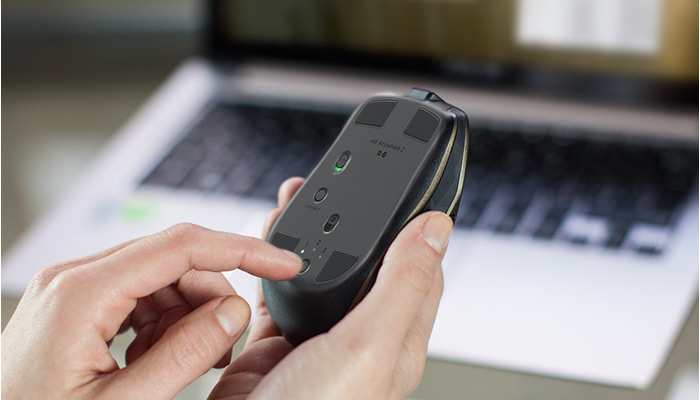 Pair up to three computers and switch between them with the touch of a button, thanks to Easy-Switch™ technology.
You can take this wireless portable mouse from your office computer to your home laptop, and even use it with a Microsoft Surface tablet. No more re-pairing when you change computers. Just a simple button touch and you're ready to go. This will quickly become your favorite go-to, use-anywhere mouse.
Hyper-fast scroll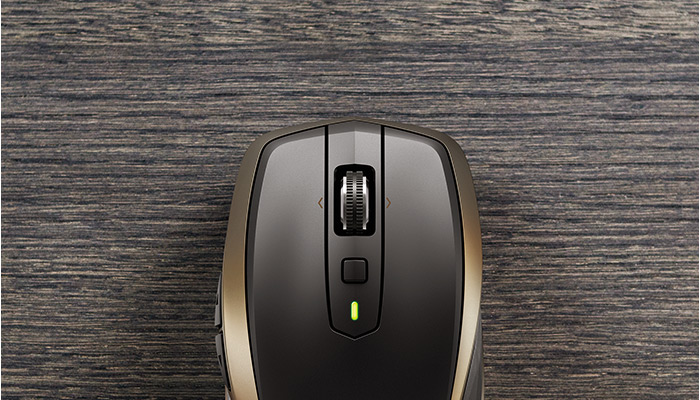 Scroll through long documents or web pages faster and easier. Or, press on the wheel and shift to click-to-click mode for precise navigation.
In free-spinning mode, you coast smoothly and quickly through the longest documents and Web pages, stopping instantly when you need to. In click-to-click mode you can step precisely through spreadsheets, photo albums or playlists.
Rechargeable battery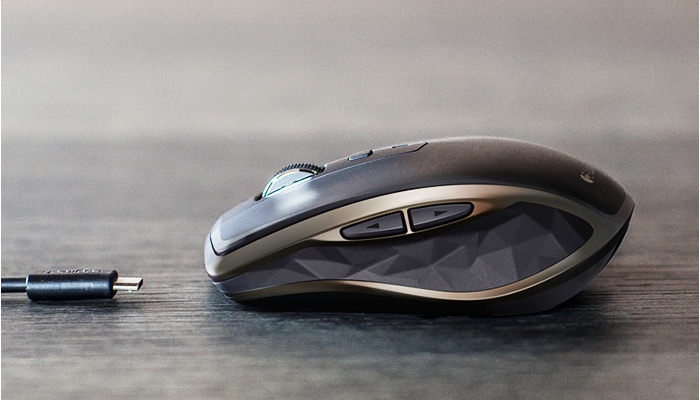 Charge quickly. A one-minute charge gives you one hour of usage and a full charge lasts up to two months.
Battery life varies based on how you use it and the conditions in which it is used. Tests showed that using the mouse six hours a day under typical office conditions the battery life will last up to two months. When it's time to recharge, simply plug MX Anywhere2 into your computer with the charging cable. Like all Logitech products, expect years of reliable service. The battery is removable if the day comes to discard this product.
Access the full range of features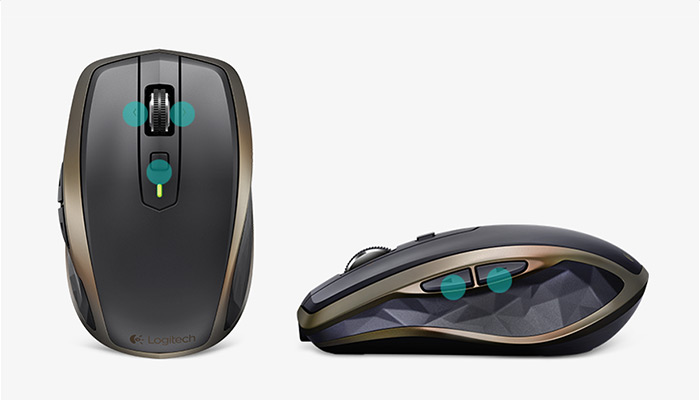 Ready to use right out of the box, Logitech Options™ software lets you add tailored functions and features for MX Anywhere 2.
Adjust scroll wheel and cursor speed, enable gesture button to reproduce either Windows® or Mac OS® touch gestures, reassign the mouse buttons, and much more is possible with the easy-to-use Logitech Options software.
Specifications
System Requirements
USB port or Bluetooth® Smart Ready computer or Windows tablet

Logitech Pico Unifying receiver
USB Port
Windows® 7
Windows 8
Windows 10
Mac OS® X 10.8 or later
or
Bluetooth® Smart
Bluetooth Smart Ready device
Windows 8 or later
Mac OS X 10.10 or later
Internet connection for software download

Dimensions
Mouse (height x width x depth): 2.4 in (61.6 mm) x 3.9 in (100.3 mm) x 1.4 in (34.4 mm)
Mouse Weight: 3.7 oz (106 g) 

Unifying receiver dimensions: (height x width x depth): 0.6 in (14.9 mm) x 0.6 in (14.3 mm) x 0.3 in (6.5 mm)
Receiver weight: 0.06 oz (1.63 g) 

Technical Specifications
Sensor technology: Darkfield Laser sensor
Nominal value : 1000 dpi
Minimal and maximal value : 400 dpi to 1600 dpi (can be set in increments of 200 dpi)
Battery life: up to 2 months on a single full charge*
*Based on a 6-hour daily office use. Battery life may vary based on user and computing conditions.
Battery: rechargeable Li-Po (500 mAh) battery
Wireless operating distance: 32 ft (10 m)
Wireless technology: Advanced 2.4GHz wireless technology
Images are illustrative and may vary from actual product. Some features require software installation.